Today I attended the CrestCon and IISP congress.  One of the keynote presentations was by Dr Ian Levy the technical director of the NCSC (National Cyber Security Centre).  This was titled 'NCSC – WTF'.  It was a very interesting and refreshingly forthright talk, so I thought I would share it!  He covered a lot of the work and plans of the NCSC along with some of his personal thoughts.
My notes from the presentation are below, I have included various links for ease of reference, and definitely recommend reading the materials they lead to.
 National Cyber Security strategy 2016-2021
Sets out government cyber policy for the next few years – read this!
Basically – information sharing is not enough, get off your arse and do something about it! (his words 😉 )
NCSC;
Should be single government / legal point of contact you got to for anything Cyber.
A different sort of agency
Collaborate with the NCSC – Secondments for Cyber experts to work with and help the country's cyber security
APTs are in the press a lot, however lets be honest;
Anatomy of most unprecedented, sophisticated cyber attacks;

Attacker does a bit of research
Attacker sends a spear phishing email to an admin
Admin opens email using admin account, exploiting unpatched stuff
Attacker does nefarious stuff as admin
Monitoring does not work
Attacker takes data or changes data
Profit
Most APT is not APT at all.  Is the focus correct? APT – less Advanced Persistent Threat – more likely Adequate Pernicious Toe-rag.. (heard this before, not sure who first coined the term..)
XKCD – Security tips cartoon!  Highlighting that some security advice is not always the best..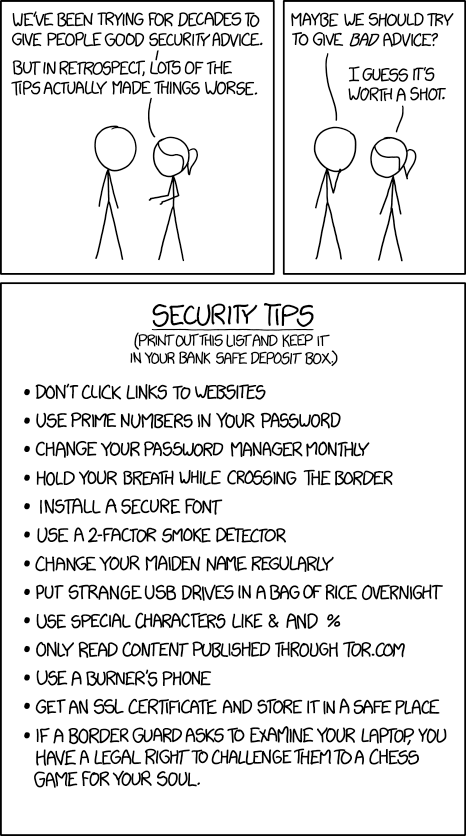 Some general thoughts;
Admins must not browse the web or use email with admin account – if you still allow this, you should get a new job..
Have a different, complex password for each system you use – stupid advice!
(not)Awesome advice – Don't open an attachment unless you trust the email.. – How do people 'trust an email'???

If you own an email domain and don't use DMARC you should be ashamed..
NCSC have open sourced their DMARC management solution – could we use this rather than paying for something?  They even have a dashboard that will be open source soon.
The NCSC is trying to reduce harm by asking nicely – automatically asking ISPs and hosting providers to take down malicious sites
Recursive DNS is my friend.
Hosting their own DNS – moving all public sector organisations to using the NCSC DNS – they will automatically not provide details for known bad sites / services so unless you connect by IP you just wont get to them
NCSC – Active Cyber Defence programme.  This provides a great overview of many of their initiatives and how they hang together;
https://www.ncsc.gov.uk/blog-post/active-cyber-defence-tackling-cyber-attacks-uk
Read Understanding Uncertainty – 'Medicine, poison, poison, poison';
Great overview of understanding risk and uncertainty, but in context..

Context is key to ensuring you really understand and focus correctly
Goal for NCSC – From fear to published evidence and analysis
So you can target you security strategy and spending appropriately!
Keep security advice basic, brief and relevant
E.g. 5 tips for email.. 5 tips for phones etc. something like – encrypt, keep up to date, use a pin, don't jailbreak, only install apps from google play / apple store.
'Hacking back' / Offensive security – his opinion
Should be reserved for government, potentially not legal for private firms.
Must be very organised, concerted effort.  Attribution is very hard..
Any private company doing this is mad, due to potential repercussions.
If you have any questions I'll try to answer them, but I hope you have found this and the links interesting!
K